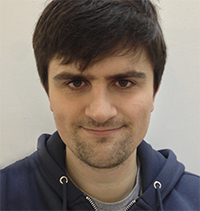 Hi, my name is Stephen Cakebread and I'm an independent game developer living in Liverpool, England. I've been making games since I was about 8 years old, and worked in the AAA games industry for 10 years with Bizarre Creations until 2011 when the studio was closed by Activision.
Since then I've collaborated on a game called Tiny Invaders for iOS, and worked on a number of my own projects that some day I might even finish.
I'm probably best known for creating Geometry Wars, but I've also worked on the PGR series, Blur and created a few games for Ludum Dare.